Neyton Alist
is the real-life best-friendship pairing of
Peyton List
and
Nausheen Ali
. They were the two youngest cast members of
BABYSITTER
and were the only female members of the cast prior to Karin Konoval joining in season 3. They always hung out when they were off set. They are so close that they call themselves "sisters"; as Peyton describes Nausheen as the "sister she never had". Peyton stated that moments after she and Nausheen met during their final audition of
BABYSITTER
, they had instantly clicked and have been inseparable from the start. Although they constantly refer to each other as "sisters", many of the
BABYSITTER
fanbase (and much later, the
Zendellaneyton
fanbase) shipped them together romantically. Over the years, many fans have accumulated evidence hinting that Nausheen and Peyton are; or atleast have been; in a romantic relationship.
Their relationship has nothing to do with Budison, although many fans seemed to think so. See Budison for the relationship between Madison and Babushka, who are Peyton and Nausheen's characters respectively.
Relationship Rumours
Much like "Larry Stylinson" in One Direction, there have been rumours circulating about a supposed romantic relationship between the two girls. Although the girls have been close friends for over 7 years, they have been rumoured to be together since 2013; the year of Zendellaneyton's formation. Although neither of them have confirmed the relationship officially, the relationship is supported by a majority of the BABYSITTER and Zendellaneyton fanbase. A few notable hints include:
They occasionally look at each other while they're performing or being interviewed.
They normally sit or stand close to each other while being interviewed.
When asked about if they could date anyone in the group, both girls have said each other.
Their arms are sometimes around each other when being interviewed.
They are often photographed in public together holding hands.
They often wink, smirk or smile at each other during interviews and performances.
They often appear in Instagram and Snapchat videos together.
They made an oath to each other that when they are both in their 30s and they are both unmarried, they will marry each other.
They often like and comment on each other's Instagram posts; and commonly compliment each other's posts.
Facts
Peyton List came out as bisexual in May 2017. Although it is implied that Nausheen is heterosexual, her sexuality is still unconfirmed.
It is noted that they have kissed/made-out atleast 7 times.

The first one was in June 2014. Nausheen tweeted, "peyton just gave me a peck on the lips this morning..weird..but good weird!! :)"
The second was for an adult comedy series (see below).
The third was in a deleted scene in the fictional series The Undead (However, since it was acted out; it was likely that they kissed more than once or twice in between takes).
The fourth was on stage on September 9, 2016, during their Sydney show.
The fifth being at Bella Thorne's 19th birthday party on October 8, 2016.
The sixth being in the pilot episode of Glory Days. Nausheen's character kisses Peyton's character as a way to mock the Neyton shippers.
The seventh being during a posed polaroid picture during the filming of Glory Days, in December 2017.

They have been rumored to be dating since atleast 2013. However, the ship wasn't popularized until the release of Black Magic.
Zendaya "confirmed" their relationship on August 9, 2016.

Peyton posted a picture of the two of them kissing on March 31, 2018; which further "confirms" the relationship.
Evidence
Fanon
In late 2014, the two girls made out on camera. It was for an American adult comedy show; where the host made a joke about what Nausheen and Peyton were doing in the dressing room while Bella and Zendaya were on the main sound stage. The LCD screen displayed Nausheen and Peyton kissing on a bed. They get to the point of making out for so long that they start taking each other's clothes off before one of the "producers" enters the room and catches them, telling them to come on stage.
During a meet-and-greet, when a fan asked them if their relationship was real, Nausheen responded by saying, "Yes. Neyton is very real."
While performing Black Magic at an outdoor music festival in mid-2015, Nausheen leaned in for a kiss with Peyton, but pulls back at the last split second.
When they appeared on the Today Show in February 2016, the host asked if their relationship was real. At first, Nausheen denied it; however she was not looking at the host and was fiddling with her coat while she said this. However, Peyton delightfully stated, "Yes. Neyton is real, everybody!".
In early 2015, Nausheen was cast for a recurring role in the fictional supernatural series The Undead. Peyton guest starred in one episode of the show, playing Nausheen's character's love interest's younger sister. Although the episode with Peyton aired, a deleted scene from the episode was leaked onto the internet. It featured Nausheen and Peyton's characters talking, and then eventually Peyton's character kisses Nausheen's. After Peyton's character apologizes, Nausheen's character leans in again for another kiss, and it lasted for about thirty seconds. This then leads to the characters making out, as Peyton's character pushes Nausheen's character against the wall and they continue to kiss passionately. Another character from the series witnesses them kiss through binoculars, and says that Nausheen's character's love interest would not like this.

This scene was cut from the episode since the producers decided at the last minute to remove Nausheen's character's sexuality out of the storyline, as Peyton was only scheduled to appear in one episode and the kiss would lead to other places. With enough storylines and events going on in the series already, another one (which is slightly more complicated) couldn't be fit in.
A HD version of the scene can be viewed on YouTube, and it currently has surfaced over 3 million views. The scene is also used regularly in fanmade Neyton videos.

In October 2015, each of the girls were interviewed individually, however the other girls watched on. When Nausheen says in her interview, "I can literally pretend that I am in love with anyone.", Bella whispers to Zendaya, "With Peyton she doesn't have to pretend.". Despite hearing her say this, Nausheen doesn't deny it.
In February 2016, Spencer (Peyton's brother) posted a series of videos on Peyton's snapchat. In the videos, Spencer (who was filming) asked Peyton what she thought of Nausheen. Peyton told him that she thought that she was cool. Spencer then says, "Oh my god, it's confirmed, folks. Neyton Alist is real! Neyton Alist is real!". The video continues with Spencer asking Peyton about Nausheen's whereabouts, however Peyton says that she isn't exactly sure. Spencer tells her, "Why? You should know where she is. She's your girlfriend.". Peyton then blushes and starts to walk away, however Spencer continues to tease her by saying, "Ooh she's blushing! She's blushing!".
When performing Secret Love Song on the first leg of the tour, Nausheen sung Kyle's part; which meant that the girls were left singing to each other. They also stand close together.
When performing "I Love You" on the second leg of the tour, each girl was performing on a cloud with their significant others painted in front of it. Bella's was "Greg", Nausheen's was "Jake", Zendaya was "My Dog" and Peyton's was "Nausheen".

Nausheen and Peyton are also co-writers of the song.

In one of their shows, Nausheen's microphone cut-out whilst she was in the middle of her part in "Secret Love Song Pt. II". Peyton gives her microphone to Nausheen.
Before performing "Love Me Like You" at one of their shows, Nausheen dedicated the song to Peyton, saying that she is dedicating the song to a special girl, whom she met five and a half years ago.
At one of their recent shows, Peyton lips "I'm yours" to Nausheen while Bella is singing her part during Secret Love Song Part II.

It was noted during/after a few performances of this song where Peyton kissed Nausheen on the cheek at one point, and the girls were holding hands through out the entire song.

This occurred at another gig:
Nausheen
: I love reading these signs that y'all make. Wait, what does that one say? 'Marry me, Nausheen Ali?' Haha. I might need to ask my mom first so that she can approve of the-
Peyton: Hey! What are you doing?!
Nausheen: This fan asked me if I could marry them.
Peyton: (to fan) Hey! You sir. No one is marrying Nausheen except for me, okay buddy?!
Nausheen: You're serious, right babe?

Peyton
: Yes! We're inseparable! Neyton is real!
[hugs Nausheen]
At another show during SLS Pt II, Peyton reads a sign saying, "Neyton is real" and Peyton says it is real. She looks at Nausheen for a few seconds, however Nausheen doesn't look back and Peyton looks disappointed.
During their South American leg of the tour, Nausheen and Peyton had to share a hotel room and slept in the same bed.

Bella makes a joke saying that if neither of the girls snapchat during the night, it means that they are "doing it".

During a radio interview on August 9, 2016, Zendellaneyton were asked a series of questions. At one point, the host asks about their hotel situation, and Bella and Zendaya are going all out explaining the Neyton situation. Zendaya then reveals that Nausheen and Peyton were officially a couple. Nausheen and Peyton both agree, and they hold hands and shouts "love wins!".

Later that day, Zendaya tweeted, "As of now: August 9, 2016, Nausheen and Peyton are OFFICIALLY a couple!! #NeytonCameOut". This hashtag trended on Twitter for hours after this happened.

During Zendellaneyton's August 10 gig, Bella and Zendaya made the entire audience chant "Neyton is real!" several times, making Nausheen and Peyton embarrassed.
During the same show, Peyton looked at Nausheen while Nausheen was singing her part in Secret Love Song Pt. II. Nausheen takes notice of this and tells her to stop; "Oh, why can't you hold me in the street? Why can't I kiss you on the dancefloor? Peyton, stop looking at me! I wish that it could be like that...".

Nausheen then sneaks up on Peyton during Peyton's part, standing inches from her. Peyton doesn't notice this until the end of the song because she had her eyes closed while she was singing. Peyton jumps at the sight of Nausheen and slaps her.

During Zendellaneyton's trip to Sydney on their world tour in early September 2016, the girls had an interview with 2-Day FM. The game was called "Hair or Care" (a standardized "yes or no" game). One of the questions was "Hair or Care: If a cute boy approached you and asked you out", to which Peyton responded with, "Why does it have to be a boy? Why does a girl need to be with a boy in order to be happy?". She was also looking at Nausheen while saying this, and Nausheen takes notice by saying, "Why are you looking at me when you're saying that?!".
On September 9, 2016, the girls kissed on stage for a few seconds between the songs "A.D.I.D.A.S." and "DNA/Pillowtalk".

Nausheen also posted a picture of the two of them kissing with the caption, "It was a special night for the both of us. <3 @peytonlist". Peyton then commented on the post a few hours later with the winking kissy face, red heart and heart eyes emoji.
A fan on Twitter also asked Peyton, "How was it like kissing Nausheen?", and she responded with the word "Wet", along with a lipstick mark and tongue emoji.

Peyton was openly supportive of Nausheen's new relationship with the Indian model Zahid Muralidharan, by commenting on Nausheen's Instagram post, "I'm so happy for you!!!" followed with the heart eyes emoji.
On October 8, 2016, Peyton and Nausheen were among the guests that attended Bella Thorne's 19th birthday party. At one point during the night, Peyton posted a video on her snapchat of her kissing Nausheen.
On October 16, 2016, a fan tweeted, "So does Nausheen have a boyfriend or a girlfriend??" to which Nausheen responded with, "Why can't I have both?".
Nausheen and Peyton appeared on a morning talk show on November 9, 2016. They were interviewed about their new single, "Rainfall" and the American presidential election. Nausheen cried on camera after the election was brought up, and Peyton publically supported her by hugging her, caressing her arm and kissing her on the cheek.

Nausheen also posted a picture on Instagram with the two of them, and captioned it, "I'm so thankful for sharing the stage with my wife!".
The girls also watched their episode together and documented it on Snapchat.

Nausheen posted a picture of her, Zahid (her boyfriend) and Peyton on the American Music Awards red carpet and captioned it "Date night with my boyfriend and girlfriend."

Zahid commented on the post, "Neyton is better," along with a few emojis.

During the girls' performance of "Rainfall" at the Nine Network's Christmas Bash, they sung closely to each other and dedicated the lyrics to each other (for example, changing "boy" to "girl").
Nausheen posted a picture on Instagram on December 31, 2016; of a screenshot of her listening to Rainfall. She ended the caption with, "(PS. @peytonlist I am still looking for someone for my new years kiss... ;)).

Peyton commented on the post a few hours later, "@nausheenali I'd be honored to kiss you tonight! Just promise to keep it a secret. <3"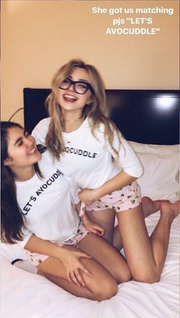 Peyton posted a picture on her Instagram story of her and Nausheen in matching pyjamas, that has the words "Let's Avocuddle" on them. They are also in the same bed and are sitting really close to each other.
Nausheen posted a video on her YouTube channel with Zendellaneyton which was filmed on their fourth-year anniversary. In the video, they were playing "Who Knows Who Best". One of the questions was "Who is most likely going to get pregnant first?", and Nausheen and Peyton wrote down each other. They exchanged this dialogue in the video:
Peyton:
[to Nausheen]
What?! Why did you write me down?
Nausheen: [to Peyton] You're gonna get pregnant before any of us. I mean look at you.
Peyton: No way, way more guys are attracted to you than me.
Nausheen: Oh my gosh. I don't understand why you were single this whole time. I'm surprised that guys aren't like, fighting over you.
Peyton: No! Why would you say that?!
Nausheen: You're literally the most beautiful girl I have seen in my entire life. And I'm not just saying that. You don't even have to try, you're just so hot and talented and...beautiful.
Peyton: You're talking about yourself, babe. There's barely any guys who want to go out with me.
Nausheen: And I cannot believe that there is no line of boys waiting outside that door for you. I'm serious.
Peyton: Wait, I know why you wrote my name down...
Nausheen: Why?
Peyton: Because all I have to do is just look at one of your posts on Instagram and I fall pregnant. Yes, you have that impact on me. [quietly] Even the other day when we were shooting that thing...when you barely had any clothes on and you were touching yourself and the water was pouring over your body. I literally could not contain myself. I swear that made me pregnant!
Nausheen: Same here, babe. I literally could not contain myself during our vacation to Cancun a few weeks ago. Just looking at you in that bikini made me like, wet. [laughs]
Peyton: Same! [giggles with Nausheen]

[Nausheen and Peyton start playfully touching each other's hands before Bella interrupts their "flirt session."]
Peyton also swapped places with Bella in the middle of the full video after she saw Zendaya and Nausheen interacting physically. This is possibly because she was jealous and wanted to sit next to Nausheen.
Nausheen and Peyton went on a double date to the Super bowl on February 5, 2017 with their boyfriends Zahid Muralidharan and Charlie Puth. The two of them were photographed flirting with one another and sitting very close to each other. This sparked a controversial response on social media because their boyfriends were sitting next to them the entire time while they were "flirting".

Nausheen also posted a photo on Instagram of her and Peyton a few hours later with the caption, "I never knew that reuniting with my girlfriend would feel so good!".
On February 17, 2017, Peyton posted a photo Instagram of her gazing into Nausheen's eyes. Her caption implies that she is in love with Nausheen, however Nausheen doesn't return the feelings.

Nausheen commented, "I love you" on the post a few hours later.
Zendaya commented, "I always knew that you loved her.." on the post.
Around the time that she posted the comment on Peyton's post, Nausheen posted a series of videos on her snapchat of her listening to "I Don't Wanna Live Forever" in bed. She also captioned the videos "Thinkin' 'bout someone..." and "In a lovey mood," while batting her eyes and blushing.

Nausheen and Peyton have both been confronted by Indigo Radio and TMZ, and both of them have stated that they do indeed love each other.
Peyton was openly supportive about the release of Nausheen's debut album. She posted a picture of the album artwork on her Instagram and wrote, "My queen has a bright future ahead of her. I released MY debut album at 14 and it was one of the best experiences of my life. Love you lots! And the album rocks too. x"
When Peyton shared a photo on her Instagram of her and her girlfriend Krissy Saleh kissing on July 14, Nausheen commented on the post, "This is the most beautiful picture I've seen #lovewins".
A fan asked Peyton on the post, "Where's Nausheen at though? I thought that you and her were together." Peyton commented back, "I never confirmed or denied the fact that I dated Nausheen. But this is a post about me and Krissy, so if you could focus on our relationship instead, that'd be great."
On August 25, 2017, Peyton posted a picture on Instagram, and Nausheen commented, "For once, I don't have anything clever to say... You're just really goddamn breathtaking." Peyton commented back with a monkey-covering-eyes and a kissy-face emoji.
During a press interview for the new Netflix series Glory Days, the two girls were sitting next to each other whilst talking about the new show. For the first 3 minutes of the interview, Nausheen's hand was in Peyton's lap (holding Peyton's hand). There was also a point in the interview where Nausheen stared at Peyton which caused Peyton to lose focus for a few seconds, and Peyton placed her hand in Nausheen's lap for most of the interview. The girls also revealed in the interview that there will be a few "Neyton" scenes in the show which will make the Neyton shippers happy. Nausheen also told Peyton she loved her quietly after Peyton laughed about a joke that Nausheen had said.
Nausheen's and Peyton's characters are going to share a kiss in Glory Days. Nausheen teased this by posting a picture on Instagram on September 26, 2017 of her looking somewhat shocked whilst Peyton was mimicking the same expression holding Nausheen's wrists. Nausheen captioned the post with, "My woman crush Wednesday will first and foremost always be @peytonlist."

It is hinted that they will kiss as it appears that some of their lipstick is smudged over each other's lips.

On October 24, 2017, the two of them reunited after Peyton was sick with a gastric problem and couldn't go to New York with the rest of Zendellaneyton. In the morning, Nausheen posted a series of things on her Snapchat, including a selfie of her and Peyton where their cheeks were touching, a video prior to this selfie where the girls stood there and posed (before Nausheen told Peyton "it's a video"), a video where Peyton was in Nausheen's trailer and most importantly, a video where Nausheen was making a loud noise while lying down on her bed. In the video, Peyton responded by making a louder noise and hugged Nausheen from behind, kissing Nausheen a few times all over her cheeks. Nausheen giggled widely and let Peyton do so.

Later that day, Nausheen posted that her and Peyton were having a "date night", where Nausheen posted several videos from the date. Peyton also posted a picture of Nausheen on her own Snapchat story. A few hours later, Nausheen posted on a photograph on Instagram and Twitter from the date where her and Peyton were gazing at each other while sharing a milkshake. She captioned the photo with, "We got a bit tipsy before dessert" on Instagram and captioned it with three rose emojis on Twitter. Peyton commented on the Instagram post, "I'm aware. Our lips touched the straws and it was all just a blur from there," to which Nausheen responded with, "I think our lips touched more than the straws but idekkkkk mannn it was a very confusing night..."

On October 31, 2017, Peyton posted a picture on Instagram to which Nausheen commented, "You will be the death of me, Peyton Roi List."
During a press interview for Glory Days in December 2017, Peyton couldn't seem to take her eyes off of Nausheen, who was sitting across the table from her. There was a point during the interview where Nausheen winked at Peyton and Peyton blushed. Also, Peyton complimented Nausheen by saying:
Peyton:
Can I just say that you look absolutely stunning today?
Nausheen: Do I?
Peyton: Yeah, I'm just *pause* looking at you.

Nausheen:
Thanks, babe.
Peyton's character in Glory Days is meant to harbour a secret crush on Nausheen's character. Towards the end of season 1, their relationship will be explored further.
During their Christmas/New Years break, Nausheen and Peyton ran into each other at a random cafe in New York. Nausheen's boyfriend Zahid openly stated that this was a sign that the universe wanted Nausheen and Peyton to be together.

They also spent New Years Eve together as well. On January 1, 2018, Nausheen posted a picture of her kissing Peyton's cheek on Instagram with the caption, "Going into the new year for the 8th time with my best friend."

In Zendellaneyton's song Is Your Love Enough?, both girls sing the line, "Girl, you can do more than talking baby," at some point during the song. Nausheen quoted this on Twitter to which Peyton replied with, "🤗 🤗 ❤️". Thousands of fans responded to Peyton's reply saying things like, "She's singing about you," "NEYTON IS REAL," "Like this tweet if Nausheen is singing about Peyton," to which Peyton favourited tweets of that nature.
On January 14, 2018 during Zendellaneyton's anniversary livestream, Nausheen brought up the fact that hundreds of tweets that used the hashtag "#PlatinumEditionQ&A" included "Neyton" in them, by saying, "No, literally. If I type in 'hashtag-platinum-edition-Q&A' in the search bar, it says 'Neyton' under it! Look! [...] It's so annoying! [...] Is there a way I could mute the word 'Neyton' until this livestream is over?"

Zendaya responded to Nausheen whilst looking into the camera, "You'd be muting half of your mentions, man," to which Peyton replied (while blushing), "Three quarters of her mentions. Are you dumb? Gosh... [...] She gets more harassed about it than me. I think it's because I'm already out of the closet." A few seconds later, Nausheen spoke up again and said, "We're never gonna stop getting Neyton questions, so I may as well just..." Bella cut in and told her, "Tell them what they want to hear! Tell all the Neyton shippers viewing this right now what they should know." This exchange occured during the livestream after Nausheen hesitated for a few seconds:
Nausheen:
Well, if you guys think it's real-
Bella and Zendaya: [cuts in] IT IS REAL!
Nausheen: Um, okay, um...
Bella and Zendaya: [chants and cheers]
Nausheen: [sigh] चुप रहो! (chup raho; "shut up")
Bella and Zendaya: [continues to chant and cheer]
Nausheen: Can we please move on to something else now?

Peyton:
Yes.
On January 30, 2018, after Peyton posted a live cover of I'd Rather Go Blind on her Instagram story (where she changed "her" to "him" ["When I saw you and him talking"] and "girl" to "boy" ["When I saw you and that boy walking around"]), she then posted another video of herself blushing and saying, "I'm so freakin' gay right now. Hehehe..." with the video surrounded with rainbow emojis. Her followers were quick to notice that at the time the video was filmed, a majority of her tagged pictures were either Neyton or Nausheen pictures. Many fans believe that Peyton made the "gay" comment either because she was singing about Nausheen and her boyfriend Zahid, or because she was looking at her recently tagged pictures.
On January 31, 2018, Nausheen hosted an Instagram live whilst she was doing her own makeup, and she was asked the question, "Are you the reason that Peyton is bi?", to which she responded with, "Honestly, I don't know. I mean, I never really asked her about it. Yeah, sure, we've had late night conversations and hang-outs where we'd just talk about personal things like sexuality and stuff, but I don't think she's ever told me, you know, well that. Um, honestly in my opinion, I don't think someone can be a reason that you're gay or straight or whatever since you're generally born with it and it's just who you are. But if I am the reason Peyton's bi, then that's pretty awesome, and I wouldn't blame her because if I wasn't me, whether I was a guy or girl, I'd still think that I'd look smoking hot."

A few minutes later, another fan asked, "What's your sexuality?" to which Nausheen responded with, "Man, I get asked this question all the time. Honest answer? I don't know yet."
On February 6, 2018, Zendellaneyton's app was updated to include a new feature which includes around 10 public chatrooms with the girls themselves and other fans. The chatrooms were named automatically. The most significant chatroom was labeled, "NEYTON SHIPPERS"; catered specifically to fans who support the Neyton ship.
Peyton released her debut single from her fourth studio album entitled "Dusk Till Dawn" on March 2, 2018, and many fans have speculated that the song was written about Nausheen. 

The bridge of the song contains the lyrics, "Girl, give love to your body. It's only you that can stop it."
In an interview with Ryan Seacrest, Peyton stated that she was in love with someone [a girl] at the time when she wrote it. She also gave hints about this particular person, by saying that the girl was someone she was friends with for a long time (ruling out her ex-girlfriend Krissy Saleh; as they've only known each other for about a year), and that she was "maybe" romantically involved with this girl.
Peyton also stated that the song can be about a friendship; however she herself interprets it as a love song.

Nausheen and Peyton (along with Bella and Zendaya) presented at the 2018 Oscars on March 4, 2018. The two of them were holding hands for the entire time they were shown on camera. They were the only ones out of the group who held hands on stage.

Also, during an interview on the red carpet, Peyton gave Nausheen a once-over with a smile on her face when the interviewer complimented Nausheen's outfit.

On Nausheen's 15th birthday, Peyton posted a polaroid picture of the two of them kissing and screen shots of a few Budison hugs. Peyton also wrote a lengthy paragraph about Nausheen, and Nausheen responded with writing her own lengthy paragraph in the comments.
Peyton released the music video for her single Dusk Till Dawn on April 6, 2018, and fans were quick to notice that her love interest in the video bares similarities to Nausheen Ali. Her love interest is played by Yara Shahidi. The similarities to Nausheen include:

The start of the video features Peyton and Yara sitting on a couch, and it's assumed that they're in some sort of interview. Peyton's heart sinks when Yara brings up her boyfriend.
Peyton sees that Yara has posted a picture of the two of them on Instagram after the interview.
They spend the day at the beach together and take a lot of photos. This may be a reference to when Neyton spent a day at the beach together in February 2016.
Yara's boyfriend greets the two girls, and Peyton gets jealous. He seems to resemble Nausheen's boyfriend Zahid.
Peyton watches on as Yara and her boyfriend greet fans and sign autographs. Clearly, Yara and her boyfriend are a famous couple; much like Nausheen and Zahid.
The girls have a sleepover together, and the scene starts off with Yara snapchatting while Peyton watches on with a smile. Nausheen tends to snapchat random moments like this.
They ride on what appears to be a tour bus. Yara looks at her phone in a concerned way, and Peyton attempts to comfort her before Yara pushes her away.
They appear to be performing in front of a massive crowd (like a concert) before Yara breaks down crying on stage.
Peyton approaches Yara backstage and hugs her. We find out that Yara's boyfriend just dumped her and she is upset about it. This may be an indirect message to Nausheen, where if her and Zahid were ever to break up, Peyton would always be by her side "from dusk till dawn". 

Nausheen posted a picture of her kissing Peyton's cheek (something of this nature) on Peyton's birthday respectively. Famous singer/actress Demi Lovato commented on the photo, "Are y'all dating or what?", to which Nausheen responded with, "Girl we married."
Nausheen and Peyton attended a NBA Playoffs game in Toronto on April 17, 2018, and the two were photographed linking arms in the stands, and there was even a photograph of the two of them leaning in for an eskimo kiss. Peyton reposted a few photos and captioned them, "My one and only 🔐💞🌈".

Also, a Canadian tattoo artist posted a selfie with the two girls on his Instagram story, captioning it with, "I got #Neyton out here. ❤️" It was known that Peyton was about to get her first tattoo; located at the back of her neck. It's the word "सदैव" (translated to "Forever/Always" in Hindi) written in Nausheen's handwriting.

Zendellaneyton appeared on Chelsea on May 1st 2018, and Chelsea brought up the Neyton "fingering" situation (see below in Glory Days Tour moments) by making them watch a video it. After Chelsea showed them the video, Nausheen proceeded to ask, "What is the question exactly?" to which Chelsea asked Nausheen if she did in fact "finger" Peyton on stage. Peyton blushed and awkwardly avoided talking. Nausheen looked over to the side concerned (presumeably at their management) and mouthed a few lines to them. She then confirmed that she did not "parttake in sexual activity with Peyton on stage in front of thousands of people".

The fact that Nausheen took a few seconds to give a definite answer and looked over to her management in confusion lead fans to believe that she did in fact do such thing, but her management told her to keep her mouth shut.

During an interview with Pop Mania, Nausheen and Peyton both wrote each other down for "Biggest Flirt". When they revealed the name they've written on their whiteboards, they looked at each other's and laughed. Peyton also drew a heart under Nausheen's name. After seeing that both Bella and Zendaya wrote her name down, Nausheen told them, "No, I think Peyton's the biggest flirt. She flirts with me like everyday." Peyton smiled and blushed during this.
They shared a moment during a press interview for Glory Days (the TV series):
Interviewer
:
[to Nausheen]
Did you have to do any research for your character [a bisexual character]?
Nausheen: I'd have to say I had to do some research, but it honestly wasn't that hard. I just had to ask the two very beautiful bisexual women in this group for-
Bella: Ayeeeee!
Peyton: I love you, boo.

Nausheen:
I love you too, baby girl.
On June 21, Nausheen confirmed on Twitter that she will be kissing girls in season 2 of Glory Days. This reveals that Nausheen and Peyton's characters' relationship is very likely to be explored further, since the season 1 finale left fans wondering if they will get together.

Peyton's character is openly gay and Nausheen's character indirectly came out as bisexual in the seventh episode of the series (by telling Ahmad [Zahid's character] that she had Priyanka Chopra and a few other women in her "crush" book). This means that their characters are very likely to get together in season 2.

In late June 2018 during a radio interview (while promoting her and Zendaya's solo collaboration "She Loves Control"), Nausheen, Zendaya and the radio host had an interesting conversation:
Host:
Now, I don't know about you, but the title of this song and even the cover art just screams "homosexual".
Nausheen and Zendaya: [chuckles]
Host: I found this really interesting seeing as though none of you girls identify as members of the LGBTQ+ community...
Nausheen: I love how you just assume that...
Host: Wait, what?!
Zendaya: [bursts into laughter]
Nausheen: N-n-n-no... I'm not saying I identify myself as a member of the LGBT community, but-
Zendaya: There's really no escaping this one...
Host: What are you implying, Nausheen Ali?
Zendaya: Yeah, tell the nice man!
Nausheen: I really don't know! I'm only 15. I don't even know my sexuality yet!
Zendaya: But aren't you the one who has late-night conversations with Peyton about sexuality?
Host: Okay, this is something I gotta hear...
Nausheen: [embarrassed] No!
Zendaya: See, we're touring and most of the time we're cruising around in a giant tour bus, right? So anyway, B and I might be trying to sleep at like 2:30am, and we hear a cute whisper coming from Nausheen and Peyton's side of the tour bus. And she goes...and she goes, 'Peyton, what's it like being bisexual,' and Peyton would give her quite a long answer. Anyway, we then hear this tiny voice saying, 'How did you know you were bi?' and Peyton answers back, 'Who's asking?'. Nausheen just screams, 'Not me!'. [laughs]
Nausheen: Um...
Host: Nausheen, is this true?

Nausheen:
[covers face]
Yes...
Rainfall
The music video for their song "Rainfall" was released on October 18, 2016. It portrays the story of a reasonably wealthy girl who had a fight with her parents about her future (portrayed by Peyton) and a poor, homeless and shy girl (portrayed by Nausheen). The two girls meet after Peyton sees Nausheen busk for money and Peyton is interested in getting to know Nausheen. Nausheen however, tells Peyton that she has to go "home", and Peyton gives her a $100 bill. Nausheen reluctantly takes it and walks away, and the two of them go their separate ways. Peyton sneaking into her bedroom and Nausheen arranging her bed on a park bench is juxtaposed. The next day, Nausheen sets up for another day of busking while Peyton is hanging out with her friend. Peyton spots Nausheen from afar and offers to buy her lunch, however Nausheen runs away before Peyton could approach her. Upset, Peyton enters goes home and her father starts yelling at her. Peyton is frustrated and slams her bedroom door in her father's face and slides down the door in tears. Peyton's father attempts to get Peyton to open the door, however she is too upset to stand up. Across the city, Nausheen continues to run away and sits down on her park bench. She cries for a while until she picks up the $100 bill and looks at it. The next day, Peyton's father drags her down the street and tells her not to leave his side. Nausheen spots Peyton from across the street. Peyton's father tells her to wait while he answers his phone, and Peyton spots Nausheen from afar. Nausheen is wearing a new leather jacket. The two of them run up to each other in a massive hug with tears rolling down their cheeks. The video concludes with Peyton asking Nausheen if she wants go back to her house, and Nausheen says yes.
Fact
The word "Alist" literally translates to "Grown" in Icelandic. Grown is the name of the sixth track on Zendellaneyton's third album Get Weird.
Glory Days Tour moments
April 13, 2018 
Reportedly during the soundcheck/Q&A, a fan asked Peyton if she could marry him, and Peyton told him, "How am I supposed to marry you if I'm in a romantic relationship with Nausheen Ali?". Apparently, Nausheen blushed and Peyton winked at her.

Peyton liked a tweet about this.

The girls briefly smiled at each other while they were swapping places in Power.
Peyton smiled during Nausheen's solo in Salute.
Peyton watched Nausheen during her mini-dance solo in Hair. Nausheen also placed her hands on Peyton's hips while dancing and the two girls briefly smiled at each other after the line broke up.
Peyton pointed at Nausheen during the line, "Girl, you can do more than talking baby" in Is Your Love Enough and motioned her to walk towards her. The girls were then playful with each other during the lyrics, "Can you keep me up all the way through the evening".
The girls had a brief conversation during Zendaya's solo in Secret Love Song Pt. II, where Peyton was curious as to why Nausheen seemed so happy (Nausheen's boyfriend was secretly in the audience during the show and she just found out). Nausheen leaned behind Zendaya to talk to Peyton. Also at the end of the song, Nausheen amped up the crowd during Peyton's long note.
Nausheen bit her lip and smiled during Peyton's solo in Your Love.
Peyton at Nausheen's butt during the second chorus of Touch. Also, Nausheen and Peyton went to one side of the stage and acknowledged the audience before making their way back towards the middle. A fan standing in front of them shouted, "NEYTON!" and both Nausheen and Peyton smiled.
In between Touch/Reggaeton Lento and Wings, Bella acknowledged that there seemed to be alot of Neyton shippers in the crowd, stating that she heard them go "NEYTON!" from the other side of the stage. Peyton shyly told Bella to stop talking.
They looked at each other while they were singing the acoustic version of Wings.
Peyton smiled at Nausheen who was leaning on her back for No More Sad Songs. She looked at Nausheen for a few seconds before Nausheen noticed Peyton staring at her and smiled back. Peyton was smiling wide for a few seconds afterwards.
They smiled at each other while they were clapping in Nothing Else Matters.
When Peyton swatted her hand down during her solo in Shout Out to My Ex's bridge, Nausheen looked at it in a confused way.
April 14, 2018
Nausheen looked at the back of Peyton's head and smiled while Zendellaneyton were standing in a line during Power. Nausheen also briefly looked at Peyton's butt just as they were getting into position for the first chorus.
During Nausheen's "sit-down" chat, she motioned Peyton to sit next to her and the two of them had flirty conversation on stage.
The girls playfully danced on each other again during Is Your Love Enough.
During the dance break in Hair, Peyton looked back at Nausheen and laughed at her as Nausheen accidentally scratched her hip. As Nausheen let go of Peyton, she was seen saying "sorry" to her while smiling.
The girls were seen singing, "A-B-C-D-EEEEEE... F...U," to each other in F.U. which made them both laugh their heads off.
Peyton admired Nausheen's solo in Secret Love Song Pt. II and lipped it to herself.
Peyton playfully scratched Nausheen's hip back during Touch/Reggaeton Lento, allowing Nausheen to wink at her.
Just before singing Dear Lover, Nausheen made a speech saying, "So, when we were writing the Glory Days album, all of us girls were going through so many different emotions individually and as a group. And I think in terms of love, it's been a pretty worldwind of a year. What would you say?" Peyton responded with, "I agree," almost straight away. Nausheen continued by saying, "And although we're currently in the most amazing, happy, healthy relationships I think we've ever been in personally... that includes you too, Peyton... with me... um... I just think that all of you guys; our fans; deserve nothing but the best in terms of love and happiness. That's all I could ask for, really." 
Peyton sung her line, "Hey look at me now" in Shout Out To My Ex to Nausheen while she had her arm around Nausheen's back.
April 16, 2018
The girls playfully danced with each other during the part they sing together in Down & Dirty; "Yeah, if we only got one night, forget about the world outside, put your hands up real high." Also during Peyton's long high note at the end of the bridge, Nausheen playfully patted Peyton on the shoulder and sung, "Fuck that, get down and dirty," to her. This made Peyton laugh.
As usual, the girls playfully danced together in the same part of Is Your Love Enough, however this time they were in a more compromising position; where Peyton practically twerked on Nausheen while she was dancing.
The girls sung, "A-B-C-D-EEEEEE... F...U," in F.U. to each other again. Also, when Bella sung "baby I need you" to Peyton, Nausheen watched on in a confused, concerned and jealous way.
As Zendaya was introducing Secret Love Song Pt. II, Nausheen brushed her own shoulder when Zendaya mentioned, "Our LGBT fans," and Nausheen and Peyton smiled at each other. Also during Zendaya's solo, Nausheen looked at Peyton and Peyton mouthed to her, "This girdle is making me so uncomfortable." Nausheen mouthed back to her, "Your outfit still fits you well, though." Peyton responded back with a wink and smile; and she blushed a bit after talking to Nausheen. Additionally, Peyton placed her hand on her own heart during Nausheen's solo and Nausheen started applauding Peyton halfway through her final high note. 
Peyton smiled wide during Nausheen's high note in Your Love. 
Nausheen slapped Peyton's butt as she passed her in Wings.
During the bridge of If I Get My Way, Nausheen and Zendaya were about to lean in for a kiss and Peyton gave a "what the-" expression to the audience.
In between Dear Lover and Good Enough, Nausheen had to run off stage because her strapless bra was coming off, however she had to persevere and run back on to the stage cuffing her breasts. Peyton looked at her concerned, and Nausheen told Zendaya, Bella and Peyton, "My bra came undone during our last set. I tried getting one of the guys to redo it but they told me to ask one of you girls to do it." This resulted in Peyton having to do it for her. Nausheen placed all of her hair over one shoulder so the back of her neck was visible to Peyton. After adjusting her bra for her, Nausheen rewarded Peyton with a hug.
Peyton came on stage in a robe during Nausheen's solo performance of he bhagavaan, and the two girls playfully danced and hugged each other.
Something cracked both of the girls up during Private Show and they kept laughing with each other.
After throwing their T-shirts into the crowd at the end of Shout Out to My Ex, Nausheen placed her hand under Peyton's breast, making her crack up laughing. She then pulled Peyton into a hug before Zendaya and Bella joined them for a group hug.
April 19, 2018
Zendaya sung "If you're with me Neyton" during the second pre-chorus of Salute; prompting laughter from Nausheen and Peyton.
During their part together in Down & Dirty, the girls walked towards each other. Nausheen threw her arms around Peyton and winked at her as soon as she let go. Peyton blushed a bit after this, especially when the audience yelled "NEYTON!" to them after this happened.
In between Salute/Down & Dirty and Hair, Peyton happily showed the audience her new tattoo (see above) and told them the story behind it.
The girls playfully danced with each other during Is Your Love Enough, and Nausheen grinded Peyton from behind a bit.
As usual, they looked at each other during the introductory acoustic part in F.U., and Nausheen somehow pulled a really funny face at Peyton, causing the whole group to crack up and mess up the first part of the performance. Bella missed her cue with, "All damn night I was here waitin'..." because she was laughing too hard. Nausheen briefly sung "waitin'" (back-up) while looking at Peyton. Bella tried singing, "Cooked your favourite, dressed up real nice..." however she still couldn't stop laughing. Peyton spoke and said, "I'm a professional" before singing Bella's line, "I know you were with her, I know that you kissed her." for her. The performance continued until the chorus, where it got to the point where Peyton couldn't look at Nausheen in the eye. Peyton even sung, "A, B, C, D, EEEEE, fuck you Nausheen!". When Peyton's solo came around ("you're dirty, disgusting..."), she placed her hand in front of Nausheen's face to avoid looking at her. The two girls continued to sing "Fuck you" to each other for the remainder of the song while smiling.
After F.U. finished, Peyton told the audience, "Nausheen was picking on me! I found it really hard to concentrate on the song," to which Nausheen responded with, "It's not my fault when you're an easy target, babe." Zendaya told them quit arguing like "an old married couple". Prior to Secret Love Song Pt. II, Peyton told Nausheen, "I swear to God if you look at me while I'm singing, I'm going to lose it."
During Peyton's solo in Secret Love Song Pt. II, Peyton looked at Nausheen briefly and giggled. Nausheen also hyped up her high note at the end of the song.
Nausheen changed the pronoun in Touch to "girl" while placing her hand on Peyton's lower back. She also looked at her while she was singing her lines. Peyton was smiling all the way through her solo. 
Nausheen picked up and danced around with an LGBT pride flag during the last chorus of No More Sad Songs, making Peyton smile.
Peyton started crying during Nausheen's solo in Nobody Like You for whatever reason. During Zendaya's rendition of the chorus, Nausheen looked over to Peyton and looked at her in a concerned way; however Peyton couldn't look her in the eye until the song was over. Nausheen mouthed "Are you okay?" to her and Peyton nodded with a small smile and sigh.
April 20, 2018
Something cracked the two girls up during the transition between Salute and Down & Dirty, and they both started laughing.
For once, Nausheen danced with Zendaya during Is Your Love Enough? instead of Peyton, and Peyton seemed somewhat jealous about it.
They sung "A, B, C, D, EEEEE... F...U." to each other at the start of F.U. Peyton also stared at Nausheen for a few seconds too long after singing the line to her.
Just before Secret Love Song Pt. II, Peyton smiled wide when Nausheen told the audience, "As soon as I stepped out on stage tonight, I noticed a beautiful little waving gay flag... and there's one over there too! Y'all know that I don't have the best eyes, but I can see those pretty gay flags. I think we have a couple more. To our gay fans, we love you so much... and to our fans who aren't out of the closet yet; to our babes who are shy about it; we love you and you don't have to rush, you can take your time, and when you do come out; no matter how people react or how people see it, we love you, you're beautiful, you deserve to love who you wanna love, you deserve to be celebrated, you're perfect and I love you. Remember me saying this, and if anyone gives any of y'all shit about being who you are, I'll kick their ass." Peyton couldn't take her eyes off of Nausheen after her little speech.
Before Nothing Else Matters, Zendaya went around and asked all the girls who their celebrity crushes were, and Peyton immediately said, "No, no, nope... I'll just slowly make my way out of here. My celebrity crush may or may not be standing on this stage right now, so I'll just..." This made the crowd go "Oooooo", making Peyton blush. She also shielded her face away from Nausheen so that she couldn't see her blushing. 
Nausheen changed the gender pronoun in Touch again while smiling at Peyton.
Nausheen slapped Peyton's butt as she passed her in Wings.
Nausheen licked her lips at Peyton during Private Show.
Both Nausheen and Peyton changed the gender pronoun in Shout Out to My Ex.
April 21, 2018
Peyton smiled at Nausheen a few times during Power; such as during and after they switched places, while Nausheen sung, "I'm a Nausheen when I do it, I'll be catching fire gasoline when I do it" and while she was singing the last chorus.
The girls returned to playfully dancing with each other during Is Your Love Enough.
Prior to singing Secret Love Song Pt. II, Nausheen told the audience to "hug the person on their left to spread the love", and then proceeded to hug Peyton. She told the audience after this, "Sorry, that was just my excuse to hug Peyton".
They smiled during each other's solos in Secret Love Song Pt. II.
Nausheen once again changed the gender pronoun in Touch while looking at Peyton.
They had a mini conversation in between No More Sad Songs and If I Get My Way:
Zendaya:
Okay, ladies. Important question time. What is the most random thing that you keep on the tour bus? Nausheen, we'll start with you.
Nausheen: Well, I keep a cucumber-
Peyton: EWWW!
Nausheen: Just for eating! Oh dear gosh. There's no way I'll fight my way outta this one, um-
Peyton: Why do you even keep a cucumber on the tour bus?
Nausheen: I told you. I keep it for if ever we're on the road for like hours and I get hungry.
Bella: Or if she misses Zahid and she just wants to-
Peyton: [grimaces]
Nausheen: What?! Bella, you're so damn cruel and innapropriate. We have kids sitting in this audience!
Zendaya: Okay, let's just move on to someone else.

Peyton:
[whispers something in Nausheen's ear looking concerned]
They smiled at each other during Nothing Else Matters.
They smiled at each other while they both sung the line, "And it's called black magiiiic, whoaa," during Black Magic.
Peyton smiled wide when Nausheen picked up a wig a fan threw at her at the end of Shout Out to My Ex.
April 27, 2018
Nausheen briefly looked at Peyton's butt during the choreography in Hair.
As usual, they playfully danced with each other in Is Your Love Enough. 
They smiled and sung, "A-B-C-D-EEEEE...F.U." to each other in F.U. Also, Nausheen gave Peyton a concerned look when she saw Peyton standing close to Bella.
Nausheen smiled wide and applauded when Peyton was telling the audience about her coming out story prior to Secret Love Song Pt. II.
Nausheen winked at Peyton during Peyton's solo in Touch.
The scripted part during the transition between You Gotta Not and Single Ladies included them talking to each other.
Nausheen looked at Peyton while she sung, "Nothing else matters like love," in Nothing Else Matters, and Peyton reciprocated by looking at her while she sung, "And I don't really care about nothing else." The two girls' eyes met while they were clapping during the last chorus, and they smiled at each other. Nausheen went over and hugged Peyton after the song as well.
For whatever reason while the girls were standing in a line after Shout Out to My Ex, (while Bella sung the final line, "You'll never bring me down"), Nausheen had her arm around Peyton. Nausheen bit her lip slightly and a few seconds later, Peyton made a surprised and pleasant facial expression. This lead fans to believe that Nausheen "fingered" Peyton on stage. Fans were also very observant to notice that as Peyton turned around, the bottom of her unitard (which resembled this) was tucked to the side slightly. 
April 28, 2018
To be added.
April 30, 2018
To be added.